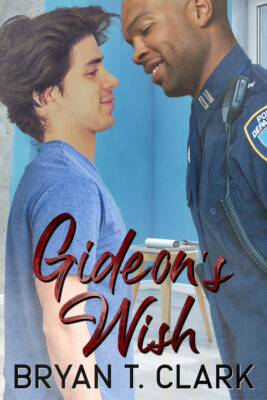 He might be Mr. Right, but their timing is all kinds of wrong…
Gideon Miller is done letting his heart do the thinking for him. Been there, done that, still has the emotional scars to prove it. Besides, he's leaving Los Angeles soon. There'd be no point in starting up a new romance now. But when he meets the off-the-charts sexy, ex-military man next door, Gideon starts to question everything…
Isaiah Williams needs a fresh start. With his time in the Navy—and a painful, toxic relationship—behind him, he's ready to start a new life. Now all he has to do is figure out how to keep his matchmaking mother out of his business…and how to not fall for his sweet, nerdy, and entirely too attractive neighbor…
They're complete opposites with nothing but trust issues in common. Their timing? Terrible. And yet…none of that matters when they're together. Will love be enough to get Gideon and Isaiah to happily ever after? Or are they destined to remain star-crossed?
"Gideon's Wish, a standalone, steamy, lightly angsty, M/M contemporary romance, features a loveable, openly gay handyman and the not-so-openly gay alpha male of his dreams. HEA guaranteed."
---
I can't tell you how excited I am for you to read this book. I think out of all of my books, my own voice really came through in much of this book as to what it is to be a gay African American in the U.S. today. I wanted to tell a story that reflects real life, and I feel this book is a reflection of that.
For you, Gideon's Wish is now available for pre-order at a limited time reduced price of $1.99 for the eBook. Make sure you reserve your copy today. The general release of the eBook and paperback will be May 1st.
Also, to celebrate the release, I'll pick two newsletter followers to receive a print autographed copy of Gideon's Wish. Winning names will be drawn by random and announced next month. To enter, just leave your answer to this question:
The first time you fell in love, how did you know it was love?
Warmly,

If you enjoyed this post, make sure you sign up for the newsletter, and never miss another blog again. Also, be sure to check out my Facebook Official Fan Page